My dear friend and Foodie extraordinaire, Correen, has very generously offered to share her delicious Chicken Chili Recipe with us. Thank you Correen, as usual it is a pleasure to work with you.
I had chicken chili on the brain the other day – the ingredients were in my fridge and pantry, it was perfect chilly weather here in Washington, and my hubby needed something warm and hearty in his thermos for work. Plus I thought it would be a down-home tasty and different filling for my recent
tamale making craze
!
Once you have cooked my chicken chili recipe let it simmer low and slow, stirring occasionally, so all the flavors meld and the chicken and beans grab onto the savory mix of spices and seasonings.
Correen's Chicken Chili (Chili Con Pollo)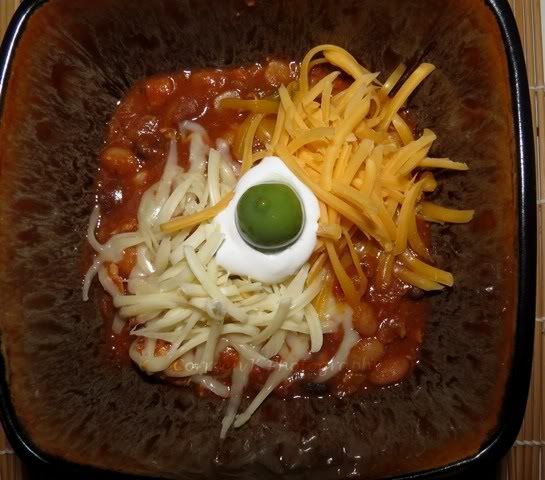 Ingredients
¼ cup olive oil
2 cups onions; coarsely chopped
2 cups green peppers; cut into ½ inch strips
3 cups of chicken breasts or tenders; cut into chunks
In a large stockpot heat olive oil to sizzling (med-high heat). Toss in the veggies and chicken, stir the mixture until chicken is golden brown and the veggies are tender; about 5 to 8 minutes.
1 tablespoon mesquite seasoning
1 ½ tablespoons garlic powder
2 teaspoons dried oregano
2 teaspoons ground cumin
½ teaspoon ground cinnamon
1 tablespoon unsweetened cocoa powder
Remove stockpot from heat and stir in all the seasonings and spices. Return to med-high heat and continue stirring for a minute or so.
6 cups cooked beans*
2 15 ounce cans of tomato sauce
2 ½ cups hot water
Instructions
Add in remaining ingredients, gently stirring to incorporate all the ingredients. Bring to a boil, turn heat down to medium and slow simmer uncovered for 1 ½ hours. Occasionally stir, making sure nothing is sticking to the bottom of the pot.
Note: To thicken this chicken chili recipe, this step might not be necessary after slow simmering, mix two tablespoons of masa harina (corn masa flour) with four tablespoons of water to make a thick paste. Stir in ½ the mixture and continue simmering, if chili still is not as thick as you like it add the remaining corn flour paste.
*About the cooked beans - I used an eight bean blend, cooked to al dente. Feel free to use any mix of beans that you and your family prefer. Canned beans can also be used, just make sure to drain and rinse the beans in a colander.
http://chickenfilletrecipes.net/2012/01/chicken-chili/
It fills me with joy to share the different things I'm whipping up in my kitchen. Besides the article here, I'm also growing my online presence and passion for cooking and foodies over at FoodLoversWebsite. I encourage you to check it out, give me a shout if you are interested in getting together for an interview or if you would like to be a guest author.
8 Responses to "Correen's Chicken Chili (Chili Con Pollo)"